Charles T. Thibodeau & Associates
You Have A Need, We Have Your Solution
ID Cards & Fingerprinting:

Previous

Up

Next

According to the Minnesota Statutes Chapter 326, Section 326.336 Employees of license holders, Subdivision 2, Identification Cards: "An identification card must be issued by the license holder to each employee. The card must be in the possession of the employee to whom it is issued at all times. The identification card must contain the license holder's name, logo (if any), address or Minnesota office address, and the employee's photograph and physical description. The card must be signed by the employee and by the license holder, qualified representative, or Minnesota office manager."

According to the Minnesota Statutes Chapter 326, Section 326.336 Employees of license holders, Subdivision 1, paragraph 2: "When a license holder hires a person to perform services as a private detective or protective agent, the employer shall submit to the bureau of criminal apprehension a full set of fingerprints of each employee and the written consent of the employee to enable the bureau to determine whether that person has a criminal record."


FINGERPRINTING COMPLIANCE AND PICTURE IDENTIFICATION CARD COMPLIANCE for both private detectives and protective agents. If you have a need for a small quantity, from 1 to 25 identification cards our service is low cost without sacrificing quality. Every legal requirement is included on each card and the color picture of the agent is printed on the card, not pasted on the card, which helps prevents fading.

These cards are custom made. The information needed for the card such as the logo, person's information and picture, and signatures can be sent to us via e-mail or mail. We also offer our services when it comes to the picture taking. We can come to your location and take the picture of the employee for you, as well as produce the cards on location.

Call us at (763) 421-4163 if you have any questions or wish to discuss customizing the card design to suit your needs.


Our standard card measures 4 1/4 in. tall by 2 1/2 in. wide or 108 mm. by 64 mm.

These ID Cards are printed using an inkjet printer on Xerox 110 lb. white Card Stock paper. These are NOT hard plastic PVC "Credit Card" type plastic cards. When finished, the card is Heat Seal laminated with a clear, semi-rigid, pre-punched ID Badge style flexible plastic.
The advantages of this lamanated card stock ID card style vs the hard plastic style are:
1. Wear/fade proof due to excessive rubbing or normal use and wear and tear.
2. Virtualy Unbreakable....Very flexible and bendable.
3. Thinner and lighter.

Below is an example of what our standard ID cards can look like: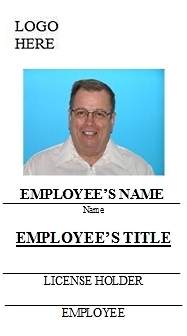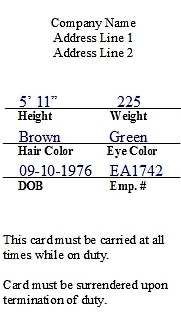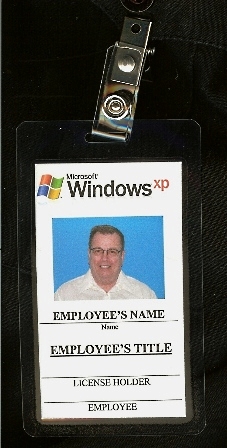 FRONT BACK FINAL PRODUCT
Copyright © 2012 Charles T. Thibodeau & Assoc.| Website template by
ARaynorDesign